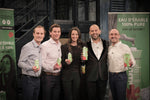 The premiere of "
Dans l'oeil du dragon
" won a good offer for Maple 3 and the program attracted more than 636,000 viewers on ICI Radio-Canada Télé.
The first company to introduce themselves to the dragons was Maple 3, a company specializing in organic beverages made from maple water. In operation since 2017, Maple 3 shows superb growth both at the Canadian level and on the international scene. By going to the show Dans l'oeil du dragon, the objective of the young Quebec company is to find strategic financial partners to support its growth, to develop new products and to help it expand its distribution network to across Canada.
Thanks to its progress over the past few years, Maple 3 has quickly been able to impress 3 of the 5 dragons present, namely Isabèle Chevalier, Georges Karam and Nicolas Duvernois. After some negotiations and in order to have a sufficient percentage of the company, it was finally Isabèle and Georges who decided to enter the adventure.
Maple 3's objectives are clear: to continue to open points of sale in Canada and to have distribution agreements around the world. Currently, the company sells its maple water products in more than 1,000 points of sale in Canada and in more than 10 countries, including China, Japan, France and Italy.
"The beverage market is competitive, but we have confidence in our expertise and we strongly believe that we will revolutionize the market by offering a 100% natural and healthy hydration solution for active people and those who are concerned about their health." , explains the 3 Maple 3 entrepreneurs.