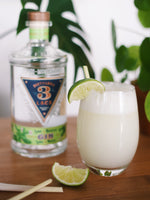 We collaborated with 3 Lakes Distillery to concoct a cocktail filled with flavor and freshness.

Here's what you need:
2 oz. 3 3 Lacs Basil Lime
0.75 oz of coconut milk
0.75 oz of simple syrup
0.75 oz of lime juice
1 piece fresh lemongrass
1 piece of fresh ginger
1 egg white
1 can of Maple 3 Peach Mango

1. In a shaker, add all ingredients except the Maple 3.

2. Shake, strain and dry shaker. Strain into an elongated glass without ice.

3. Add Maple 3 Peach Mango.

4. Add lemongrass stick and lime.