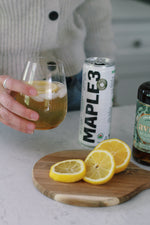 Do you like sweet cocktails? You'll love our Maple 3 Amaretto Sour! This is the perfect drink to enjoy on those warm summer nights! 
Here's what you need: 
1 oz. of amaretto 

1 tbsp of lemon juice (of you really like lemon, you can add 2 tbsp) 

Lemon slices

A splash of maple syrup

Ice 
Add some ice to your cup.

Mix in the amaretto, Maple 3 water, lemon juice and maple syrup. 

Add your lemon slices!