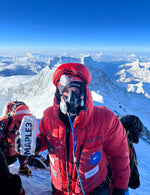 Dany Morin is 53 years old, father of 2 boys and currently semi-retired. An avid sportsman since his youth, Dany is passionate about the outdoors. His favorite sports are mountain biking, mountaineering, climbing, road biking and touring. He is a professional mountain bike skills coach. He loves being in nature and now lives in a van in the forest with his wife. 
Dany has been climbing since he was a child and mountaineering is a sport that has always attracted him. He loves climbing a mountain and admiring the view the whole way. While on the mountain, Dany likes to look back on his life and he says it helps him learn to live with his pain. Having dreamed of climbing Everest for over 30 years, he has read many books and seen a few documentaries about Everest. All his life, he always asked himself, "How far could he go and how far could he get out of his comfort zone?" As his children grew up, he was able to focus more on his passion for mountaineering. The pandemic also opened his eyes to his future and his aspirations. He realized he wanted to sell his business and pursue his dreams. This year he was able to realize his biggest dream, climbing Everest. Dany mentions that he chose Maple 3 as his sponsor because he likes organic, healthy products made in Quebec. Maple 3 maple water is an easy and natural choice for him to hydrate himself after or during his workouts. He loves to promote products made in Quebec.
We (the Maple 3 team) are glad to have sponsored Dany in this adventure.
On his way to Everest 
In May 2022, his ascent to Everest begins. During the acclimatization period, Dany caught a virus in his lungs. He mentions "at altitude it always takes longer to recover, your body is slowed down, there is less oxygen and healing is slower". So he had to rest in order to recover and better fight the virus. After recovering, the acclimatization continued, "It's important to acclimatize to see if you don't have acute mountain sickness" he said. After climbing to Camp 3, the jet streams were too strong, with winds of 150-180 km/h, so they had to return to Camp 2.
The next day, the winds had diminished and the climb to the summit began. At this point, Dany mentions "it's everyone for itself". After leaving Camp 4, at 8500 meters of altitude, Dany's mask froze and he ran out of oxygen. Luckily his Sherpa found him a new one. With about an hour left to walk to the summit, Dany mentions "there is a very difficult section before arriving, because the winds are so strong and make you fall". With only an hour to go before the summit, Dany's Sherpa asked him "Dany what do we do, do we continue?" At that moment Dany was thinking about his family, his sponsors, and all the time he had invested in this project. He didn't want to give up so he answered: "Let's go and try to get to the top!" Dany mentions that "the sun was rising on the horizon, it was magical and at that moment, I gained energy to get to the top". When he arrived at the top, he saw the flags and the other climbers, he had an indescribable feeling of having accomplished this challenge.
During the climb, Dany had a sore calf, but he thought he had just pulled a muscle. Since the beginning of the climb, Dany was feeling abnormally tired and his legs felt so heavy. When he returned to Quebec, his calf was still sore and his condition worsened. He went to the hospital where he was told he had a pulmonary embolism. The doctor concluded that Dany had been carrying a clot in his calf throughout his climb. Fortunately, his condition did not worsen during the expedition. Not only did Dany climb Everest, but he did it with a disadvantage.
Next challenges
Dany is proud to have accomplished his greatest dream, climbing Everest. Dany told me that what is magical is not necessarily being at the top, but the journey to get there; that is his greatest pride! During his ascent, he was able to appreciate and enjoy the moment. Passionate about mountaineering, he is now ready to take on new challenges, one of which is to climb Manaslu, also located in Nepal. Sharing his passion with his family, he hopes to eventually reach new heights with his family.