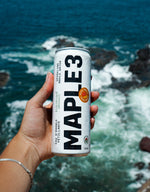 The craze for maple water is booming due to its unique taste and health benefits, and this product is now occupying an important place on the shelves of grocery stores.
Maple water is primarily used as an ingredient in making maple syrup. The Quebec maple industry, however, invested heavily in the early 2000s to make it a product in its own right.
"As producers, we drink maple water during the sugaring season, some freeze it to flavor coffees during the year," argues the president of the Federation of Quebec Maple Syrup Producers (FPAQ) , Serge Beaulieu.
However, maple syrup producers have found that storing maple water is a challenge since bacteria easily deteriorate it.
"We started with scientific research to validate the composition of the product and, in 2012, we entered sugar bushes to do production tests," explains Nathalie Langlois, Director of Promotion, Innovation and Market Development of the FPAQ.
After several years of research and development, the maple industry has finally found a way to sterilize the product.
A drink beneficial to health
Maple water is gaining more and more followers, especially because of its health benefits.
"It's 46 vitamins and minerals, you even have antioxidants like those found in the fruit," said the founding president of the Anti Plus company, Thierry Houillon.
Consumers can now purchase maple sap in many food markets. Demand is also growing elsewhere in the world.
"Where it is most in demand is France, then we have Belgium, Japan, Australia and Germany. Funny, this is something that is well known, even if it comes from here ", underlines the president of Sibon Foods, Amélie Léger.
Currently, only 10 of the 14,000 maple syrup producers are certified to sell maple sap. The industry claims that the potential of this product is almost as great as that of maple syrup.
#radiocanada #maplewater #eauderable #benefits #benefits